H
ow
t
o
M
ake
p
ayment
Payment can be made payable to our bank account or by Credit card.
Bayaran boleh di buat melalui bank akaun atau Kad Kredit
Malaysian Account holder can pay through FPX Payment or bank transfer
Pemegang akaun tempatan (Malaysia) boleh membuat bayaran melalui FPX atau bank transfer
Non-Malaysian Account (foreign account holder) pay through Transfer Wise (lower transfer charge), Credit card or Western Union
Additional 3% per transaction as Handling Fee for the payment by foreign Credit card.
Online Payment For local bank account holder.
Pembayaran Dalam Talian untuk pemegang akaun bank tempatan
(Pay to our
CIMB Bank
account - 8006643191)
DuitNow ID
, Company number : 582487H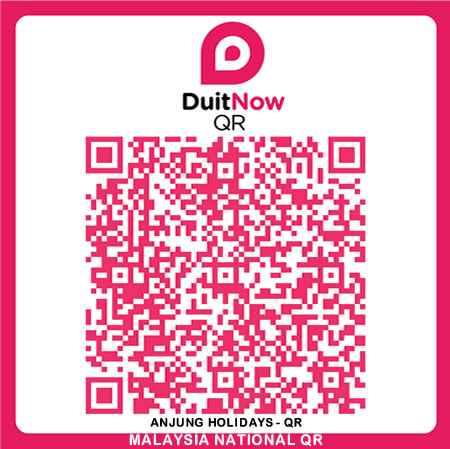 Please scan for QR pay, or Download image and scan QR from Gallery
All payment must be transfer to our bank account under name of Anjung Holidays Sdn. Bhd.
Please advice after made payment either by email of fax or facebook..
All payment order / telegraphic transfer service charge will be paid by the customer.
Please advice your booking number or file number when do transfer so we know whose made payment.
Best money transfer by Western Union or TransferWise because by bank transfer (TT) some time you will be charged double (by your bank and our bank).

Pay to our Bank account
·Account number :8006643191
.Account Type : Current Account
.Account Named : Anjung Holidays Sdn Bhd
.Bank Named : CIMB Bank Berhad
·Swift code / IBAN / BIC : CIBBMYKL (Some country CIBBMYKLXXX)
·Address : Bangunan UMNO (Baitul Ehsan), Jalan Besar, 22000 Jerteh, Terengganu.
·DuitNow ID, Company number : 582487H


For foreigner, payment can be made payable to our bank account at any amount in your currency and will be converted to local currency (MYR) as approved by credit adviser. Confirmation of reservation will be forwarded to you once we get the result from our bank. Balance should be paid in full 2 weeks before arrival.
Please advice your name and your invoice/booking number in the description when you make payment, because some time we can't recognize from who the payment is made because no name or file in the description. And some time the name appear is not in our data base.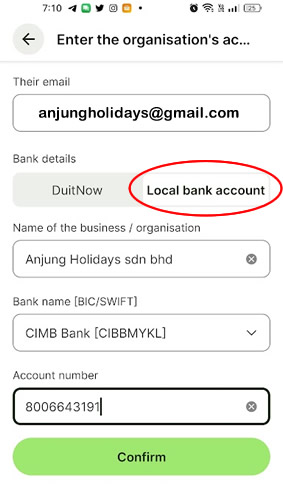 There is 3% Handling Fee will be charge automatically for the payment by Credit Card .
Cancellation with less than 2 (two) weeks notice, N0 REFUND of prepayment / full duration of stay will be charge
Cancellation with more than 2 (two) weeks notice, prepayment will be refunded less RM50.00 for administrative fee.